Dear parents and caretakers
Privacy
This website is maintained by Trademarc Licensing. We see it as our responsibility to protect your privacy and will therefore handle this with care. Please note that we are not responsible for the privacy practices of other sites and resources linked from our page. By using this website you indicate that you accept the privacy policy.
We ensure that information you provide via our contact forms and/or email address is treated confidentially. Trademarc Licensing will not provide this information to third parties unless we are legally obliged to do so.
What data do we request and the reason why we request this
Below you will find an overview of the data that we request and process via the contact form on our website:
– Your name
– E-mail address
For what purpose and on what basis do we process your personal data
– We need this information to be able to correctly answer your e-mail questions or requests
Special and/or sensitive personal data that we process
Our website and/or service does not intend to collect data from website visitors under the age of 16. Unless they have parental or guardian consent. However, we cannot check whether a visitor is older than 16. We therefore advise parents to be involved in the online activities of their children. If you are convinced that we have received information from a minor without parental permission, please let us know via info@trademarclicensing.com.
How long and why we keep personal data
In order to meet the request of our local tax authorities we keep all our data for a period of 7 years.
Sharing personal data with third parties
Trademarc Licensing only shares your personal data with third parties if this is necessary to comply with any legal obligation.
Which cookies does our website place and why?
We collect data for research in order to gain a better understanding of the use of this website, so that we can tailor the ease of use of this website and services accordingly. For this we use technical or functional "cookies". These cookies are not related to your personal information.
We also use analytical cookies. We use these Google Analytics cookies to:
– to keep track of visitor statistics of our website
– to see how you found us
– receive insight into the number of visitors to the web pages and the duration of the visit.
– to be able to see information about your browser and device with which you visit our website, such as operating system and screen size.
Google has not received permission from Trademarc Licensing to use analytical information obtained from the patmat.tv website or to use it for other services affiliated with Google. The settings that Trademarc Licensing has provided to Google Analytics are:
– Your IP address may only be processed anonymously.
– And Trademarc Licensing has turned off Analytics' Data Sharing option.
Trademarc Licensing has also concluded a processor agreement with Google.
Purposes
We do not collect or use information for purposes other than the purposes described in this privacy policy unless we have obtained your consent in advance.
Social Media Cookies
We have buttons on our website so that you can easily visit and/or promote ("like" or share) our Facebook page on your own social networks. For this purpose, cookies are placed by these networks themselves. Trademarc Licensing has no influence on this. If you want to know how Facebook handles your data, you will have to read their own Privacy Statement carefully.
Changes
This privacy statement is tailored to the use of and the possibilities on this site. Any adjustments and/or changes to this site may lead to changes in this privacy statement. It is therefore advisable to regularly consult this privacy statement. Do you have a complaint regarding our privacy policy? Please feel free to contact us at info@trademarclicensing.com. We will then do everything possible to provide a solution.
Questions and feedback
We regularly check whether we comply with this privacy policy. If you have any questions about this privacy policy, you can contact us using the following contact information: info@trademarclicensing.com
DISCLAIMER
Liability
The following relates to the website www.buurmanenbuurman.tv. and www.patmat.tv. By using this website you agree with the disclaimer text below.
This website has been compiled with care and attention. But it is always possible that a typing error is made by us. Trademarc Licensing is not liable for such errors and Trademarc Licensing cannot accept any liability if this website is temporarily unavailable due to a malfunction.
Trademarc Licensing is not liable nor responsible for the content shown on any information which is linked to this website url.
Copyright
All illustrations, photos and text on the site www.buurmanenbuurman.tv and www.patmat.tv are protected by copyright.
It is therefore not permitted to copy and / or distribute information from this site without prior written permission from Trademarc Licensing. Visitors and users of our website cannot derive any rights whatsoever from the information/content offered.
The texts, photos and/or graphic illustrations on this website may not be reproduced in whole or in part, and/or made public by printing, photocopying, faxing, retyping, storage in an automated file or otherwise in entirety without the written permission of Trademarc Licensing. or processed form.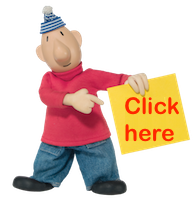 Make your own birthday decoration products. Cupcakes, flags and lot's more. A guaranteed success on every party!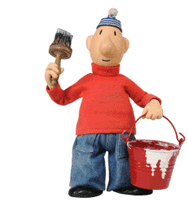 Create your amazing shoe box viewer, Find a shoebox and start creating your miniature Pat & Mat world.